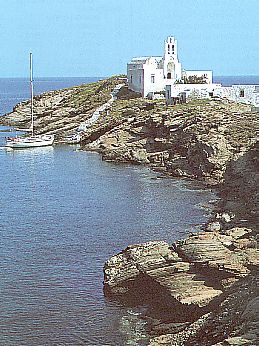 A monotonous gray landscape of rock, broken up here and there by a gleaming white chapel, is the first impression made of visitors as the ferry draws into the harbour. But this gives them no idea of the beauty-spots waiting to be discovered inland, which together with the island's superb architecture, rank it among the jewels of the Aegean.
The island was famous in ancient times for the wealth which came from its gold and silver mines and the quarries of Sifnos stone. It enjoyed great prosperity in Classical times, as can be seen from its Treasury, dedicated to Apollo at Delphi.
An attractive drive from the port of Kamares, a modern town with pottery workshops, brings us to the island's capital, Apollonia. Standing on three hillsides, with its typical Cycladic style of architecture, it is breathtakingly beautiful. It has an interesting folklore museum, while the churches of the greatest interest are those of Our Lady 'Ouranofora' and St. Sozon.
Like that of the villages round about (Artemonas, Exambela, Kato Petali), the architecture of Apolonia is an odd assemblage in which walls, terraces, courtyards and alleyways form large cubes in a continuous complex, in total harmony with the natural environment.